Game Play
Unleash your inner comedian! Hilarity ensues in this fast-paced
race to become the Laughing Stock™ of the group. Invent the
funniest punch lines to over 3.4 million joke combinations and
deliver your friends' gags with flair. Perfect for parties and
family nights, this gut-busting game will have everyone laughing
and learning at the same time.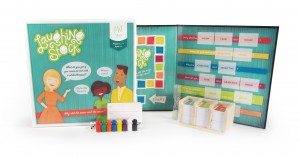 Creative: 
Test your wits in coming up with jokes and puns to
random and hilarious jokes
For the young and the old:
Sometimes the funniest answers come from the simple
mind of a child. This is an everyone game.
Educational:
This will secretly help those learning English
differentiate between adjectives, nouns, and verbs
Contents:
-1 game board
-8 game pieces
-1 joke pad
-450 game cards
-1 sand timer
-1 die"